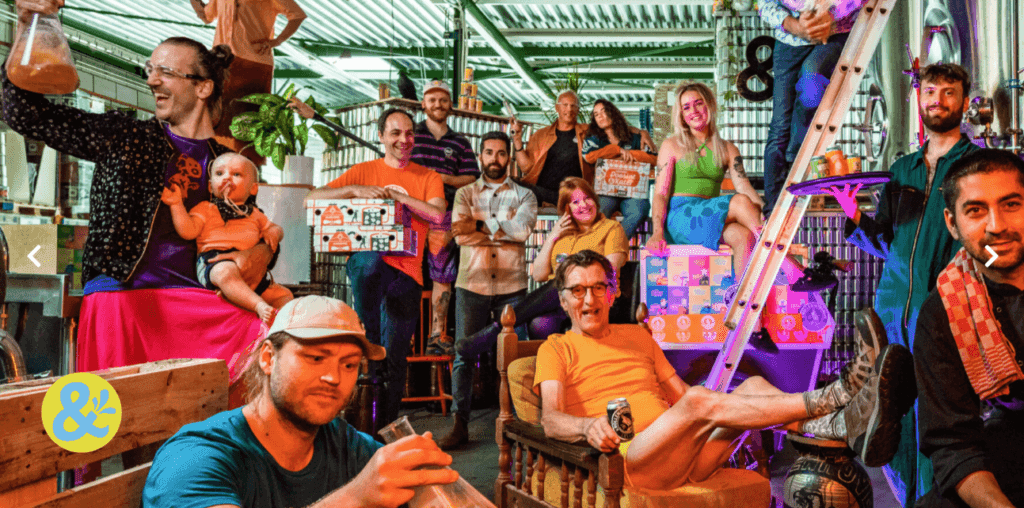 Less manual administration, more time for sales!
Spending hours retyping data from your webshop into your accounting system? The brewers at the Amsterdam brewery Poesiat & Kater had better things to do. That's why we helped with an integration between WooCommerce and Asperion. Now the brewery is finally daring to put money into marketing and are ready to scale up.
Webshop orders and invoices did not match
Poesiat & Kater had been selling beers in their web shop for a few years, but they weren't a fan of their own system. "We had a website, but the webshop was somewhere else and that was confusing. For ourselves and for our customers. The design didn't suit us either but through the old cms we couldn't pimp the site unfortunately," says Julian Alvarez Zarate, brewer and co-founder of Poesiat & Kater.
"The old website was linked to our accounting package Asperion, but that didn't go smoothly either. In the web shop, for example, each order was given its own number. But in Asperion, that order was given a different number. As a result, our accountant could not see which invoices, orders and payments belonged together. That took a lot of research time. Orders and supplies were also not automatically updated. Then you had to go to Asperion and only after a few clicks were the orders synchronized. We forgot to do that sometimes."
Orders automatically in administration
Four years ago, Julian was fed up: "But such a new website is a huge project. In 2022, we really made strides and had a new website with a webshop built in WordPress and WooCommerce. And we wanted orders from the webshop to automatically end up in Asperion, because our whole business runs on that system. So I had to find an integration between Asperion and WooCommerce. Via Google I discovered that only APIcenter could arrange that, so I scheduled a meeting with Jelle."
Advice on synchronizations
His collaboration with APIcenter began with a meeting about Julian's business and desires now and in the future. Julian: "APIcenter knows all about e-commerce and the ways of integrating, but how a program like WooCommerce or Asperion is used is different in every company. That's why we explained how we work with those programs. Then Jelle gave us advice on which synchronizations we needed. He knows the market very well, so I also got a tip about a party where I can easily print shipping labels for our packages. We chose to have orders, inventory and product information synchronized. We wanted to equalize all the fields so we could manage them in WooCommerce."
APIcenter takes care of the technical stuff
From Julian's wishes we brewed a nice working connection between WooCommerce and Asperion. "You discuss how you want the itegration set up and APIcenter does the rest. That's very nice, because it's all quite technical. And I myself am more into pipes and pumps than computer code," says the brewer. "We only had to give permission a few times in the platform to authorize the integration. Then they start working on the setup and test orders, and for a moment you see all kinds of crazy things happening in your administration. Everything was coordinated live with us via email and testing, so that went very quickly. Within 2 hours the first integration was already set up. Further fine-tuning was also fast. They are on top of it."
Hop to the top
Thanks to the integration, Poesiat & Kater keeps more time to brew and sell beer. This is because they no longer have to type details from the webshop into Asperion. Julian says this himself: "Orders from WooCommerce appear automatically in Asperion. And if we change stock in Asperion, for example, it automatically happens in the webshop as well. We used to have to keep track of that manually. Fortunately, now it happens automatically."
"Thanks to the integration, our orders run more smoothly and, together with the new design, we provide a better customer experience. Also because, for example, the stock information in the webshop is always real-time. Before, we didn't have a good basis for going public. We finally dare to invest time and money in marketing campaigns to boost our online sales. With our new webshop and the administration and logistics in order, we can scale up with confidence."
You're welcome Julian, cheers to you!
Try it for free!
Are you also completely done retyping orders and payments? Create a free account and have the data in your shop and accounting package automatically synchronized.